FlickKey Notes
iOS App using FlickKey Keyboard Technology

Version 1.8 (Find the latest release notes here)
iPhone OS 4.0 or later
Languages: English
FlickKey-Mini
iOS Demo App using FlickKey Keyboard Technology on a simulated smart watch face. Get more info and download here.
Would you like a better touch screen keyboard on your iOS device? If so, FlickKey Notes is the answer. FlickKey Notes is a notepad application featuring a new and superior keyboard. FlickKey is extremely fast and efficient. The keyboard consists of just six flick-able keys. Each large key lets you access 9 characters. To use: press a key and ďflickĒ in the direction of an outer character to choose that character. You can press anywhere on the large key and flick any direction toward the letter you want. If you want the center character, simply press and release the center key, just like a standard key.
FlickKey Notes features:

Only six super large hard-to-miss flick-able keys on the screen at a time.
Popup flick-able keys so you can type common words uncommonly fast.
More common punctuation characters on the main keyboard screen.
Only two screens for all the alphanumeric and numeric characters.
Email, SMS text, and search the Web directly from FlickKey.
Standard copy and paste functions.
Choose your font and font size. Forgot your glasses, set a large font size!
FlickKey Notes is fast! Speed up your texting or twittering.
Write longer messages again with email or social networking.
FlickKey Notes keys are so large that they are not hard to hit, they are hard to miss! An experienced user should expect to be able to touch type with FlickKey. Thatís nearly impossible with a standard mobile keyboard. With FlickKey you can keep your eyes on your message.
FlickKey Notes is a notepad app that letís you compose messages and then letís you paste them into other applications. FlickKey Notes can be used with any program that supports the standard paste function. You may also compose an email, SMS text, or search the Web directly from FlickKey.
FlickKey includes popup flick-able keys containing whole words, plus a finishing space, that can be entered by choosing the word with two little flicks of the screen. Common words can be entered with ease and unmatched speed.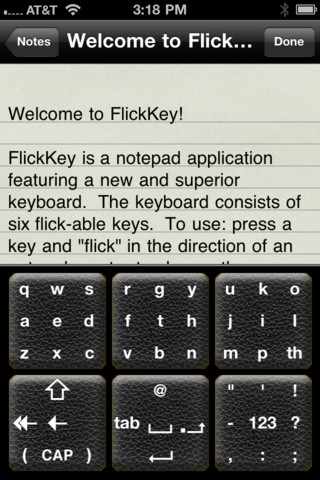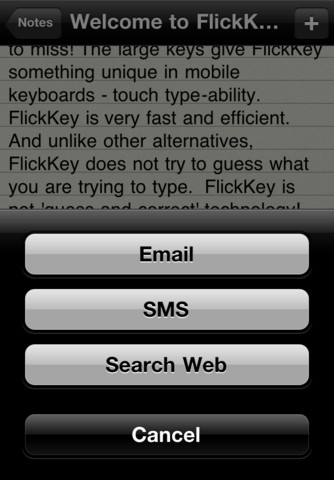 FlickKey does NOT ADVERTISE to you! FlickKey does not gather information about you, or target you in any way! FlickKey is not trying to build a user base with a free version, only to advertise to you later! FlickKey does not use location services. FlickKey respects your privacy.